Casa de la Amistad, Cienfuegos
At Casa de la Amistad you'll be welcomed by the hospitable hosts Armando and Leonor as a part of a fast growing family.
They both speak English very well, and they know the difficult art of being there when needed and giving you privacy when that's what you want.

The Casa Amistad is located right at the centre of Cienfuegos. In the old colonial building on avenue 56 just opposite the hotel La Union, there are two rooms for rent on the huge 1st floor. Both rooms have private bathrooms.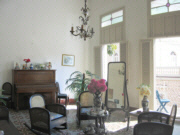 I had my best dinner in Cuba at Amistad.
The name of the course resembled a dish from a McDonald menu-card, but that would definitely be the sole comparison. It was called: Chicken in Cola. And it was absolutely delicious.
I actually experimented with how to make the Chicken in Cola at home, but I think I kind of dropped a Tabasco bottle in the sauce; so if you want to experience the real thing you'll have to stop by at the Casa de la Amistad.
Here's my own version of that course. However, I'll be the first to admit that it's very different and nowhere near as tasty as the one I had at the Amistad.
Chicken in cola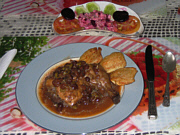 Ingredients (2 pers.):
300 - 350 g. chicken fillet
½ dl. ketchup
1 can of cola
½ tsp. fresh chopped ginger
Salt
Pepper
Tabasco
300 g. sliced squash
300 g. red bell pepper
1 tbsp chopped onions
2 tbsp raisin
1 tbsp chopped olives
1-2 cloves garlic, chopped
1 lime, freshly squeezed
½ dl. chicken bouillon
1 tbs sugar
Brown the chicken in a little oil
Put it with all the ingredients in an ovenware
Give it 35 min. at 200 °C
Serve with
Rice
French baguette
Sliced pineapple, cantaloupe melon and tomatoes
Candlelights and a good red vine :-)
Armando and Leonor are both retired. He as an economist and she as an engineer.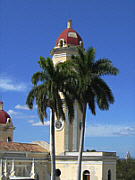 I had a long friendly chat with Armando. Among other things he talked of the Cuban electoral system: "Our kind of democracy" as he called it, and about the 40+ education-programs that runs every week on the national TV with no ads
- How surreal. How else would I get my daily dose of disinformation?
But then again. Who needs to advertise, when the state has an even greater control over the media than the ex ex. ex. Prime Minister Silvio Berlusconi had has in Italy.
I also had talks with Leonor, and she turned out to be a well of information about things to do and places to see in Cienfuegos and in other places around Cuba.
Armando and Leonor's visitors' books are signed by guests from nations all over the world, and provide a good hint of why this place is such a treat.
Here's a folder[Page 1] [Page 2] of the Casa de la Amistad.
If you need to get in contact with Armando and Leonor, you can use this email address: casamistad@correodecuba.cu