Hotel Telégrafo, Havana
Built in 1860, this well-reputed hotel had a total makeover before re-opening in 2001. The location is impossible to beat.
The Telégrafo overlooks the Parque Central on the Prado , and you'll be staying 100 meters from the Gran Teatro de la Habana and 200 meters from the Casa de la Musica.

I reserved, and I received a room on the 1st floor - with a balcony and a terrific view over the Parque Central.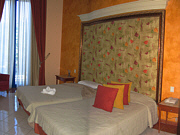 The tasteful restoration of the hotel includes an efficient sound-proofing, so you won't be bothered by the sound of the many activities from the Prado below.
The spacious room with the 5-6 meter high ceiling includes:
Comfortable beds
Adjustable and low-noised air-condition that is placed away from the bed
Cable TV
A safe with an adjustable combination lock
Mini-bar
Bathtub
Shower cap
Toilet paper
Extra blankets
Towels in 3 sizes
Telephone
Room- and laundry service
Wardrobe
Shoe-polish
The Telégrafo is a great hotel, and the staff is extremely friendly, helpful and efficient.
I'll give you an example of their efficiency: One night my toilet started running. I called the reception, and in less than 5 minutes there was a knock on my door and after a couple of minutes, the plumber had fixed the problem.
In Denmark we can only dream of a plumber showing up in less than five minutes :-)
In the hotel hall there's a souvenir-shop and a desk with a tourist-guide who will help you with tickets, reservations and information about everything going on in Havana and for that matter in Cuba. From the small folders on the table next to the desk you'll find information about current popular music-events etc.
In my price of 78 CUC breakfast was included which was a separate chapter in itself.
You're offered:
4 different hot foods like: Potatoes, rice with vegetables, pancakes, breaded sausages
4-5 different cold cuts including cheese, ham and butter
3-4 sorts of peeled and sliced fruit. Typically oranges, pineapples and melons
5-6 different kinds of cake
3 types of juice
Boiled eggs and "Chef-made" fried eggs - sunny side up / over easy or as omelette with vegetable and cheese
French baguette, toast and rolls
Coffee and tea
So, if you want to stay in the centre of Havana, the hotel Telégrafo. is a great place for a good treat.