Santa Maria del Mar, Playas del Este
The beach Santa Maria del Mar is only a short bus ride from Havana.
It's just as good if not better than the beaches at Varadero, so it's understandable that it's a favourite weekend-place for a lot of Cubans.

Santa Maria del Mar is one of several beaches along Playas del Este. They run from Bacuranao to Guanabo and are all within easy reach from Havana. To Santa Maria del Mar it's a 40 CUP drive with the local bus, a 3 CUC drive with ViaZul or a 35 CUC drive by taxi.
As in other tourist places you'll be guarded well by the many police officers touring the beach until sunset. At that time most of them are picked up by trucks.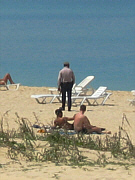 Some people may not like the thought of being watched by the police, but at the beach there seemed to be a good atmosphere and everyone got along just fine. You should keep in mind that the police are also there to guard you from hustlers and the likes.
One afternoon I decided to stray a little from the usual flypaper. I did notice that a policeman placed himself discreetly in the sand hill about 100 meters behind me. After standing in the sun for about an hour, he came down to me and explained that he had to leave now; so I should be careful if I went for a swim with all my stuff lying on the beach. What a service!