Hotel Los Caneyes, Santa Clara
The 3-star hotel Los Caneyes is a typical 1 or 2 night hotel.
It's a 3 CUC taxi-drive from the town-centre, and functions more like a motel - but a good one at that.

With cabins spread out all over the compound, the hotel is arranged like a pre-Columbian, Indian reservation.
Inside the cabins you'll find pleasant air-conditioned rooms with really good beds, a nice bathroom, telephone and a small walk-in closet. Once again, mind the step!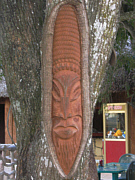 If you need a safe, you have to ask for a hut with one, and you have to pay 2 CUC a day for the key.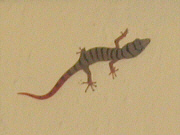 I reserved a single, and didn't even have to pay extra for the visit of the little guy on the right. The management assured me that I would survive the night without being eaten; so I had a good night's sleep in the best beds I came across in Cuba.
The next morning I had another visit - of the more harmless kind. He/she occupied the bathroom for quite a while (Right - So it must be a she), but eventually I was allowed in to have my morning bath.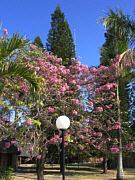 Apart from a good breakfast and a worthwhile restaurant, the hotel has extras like beauty parlour, hairdresser, jacuzzi, etc.
The Fashion Show
In Cuba you'll have many opportunities to attend fashion shows.
But I never expected to see such high quality as in the show I attended at the hotel Los Caneyes.
With the rhythms, the colourful light setting and an ice-cold drink at hand, I was prepared for a typical evening-show in the hotel disco.
Like at other shows, I expected the catwalk to be done by hotel-employees, and the dresses to come from the local souvenir shop.
So I was kind of flabbergasted when the show revealed some absolutely beautiful, handmade and local designed dresses, worn by equally beautiful models that were clearly professionals on the catwalk.
I just sat back and enjoyed the show, and forgot all about camera and photos for the first quarter of it - that would be the part with the bathing-suits.
Fortunately, later on, I did shoot some pictures. They could never show the true beauty or professionalism of the show, but it could give you an idea of why attending the show is a great idea.
If you have questions about the show or the dresses, you're welcome to contact the designer, preferably in Spanish, at:
Ortelio Fidel Aguilera Alba
Villuendas # 56 Entre Independencia y Marti
Santa Clara
Villa Clara
CUBA