Hotel Jagua, Cienfuegos
The seven-story Jagua lies beautifully by the shore and it has a perfect view over the Cienfuegos bay.
It's a modern building recently restored after the category 4 hurricane Michelle hit the southern cost on November 4th 2001.

As a registered 4-star hotel, and at 74 CUC a night for a single I expected facilities close to that of the Telégrafo in Havana, but as it turned out, the hotel had at least 2 major draw-backs.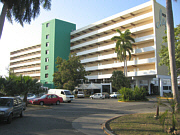 When I left the Jagua, the hotel had been without water for 2 days.
Now, it's a rather delicate matter to do your morning toilette in aqua con gas, but in comparison with the problems of not being able to flush the toilet, it's really a minor point.
According to the staff, the water-problem was not an area problem, not even a Cienfuegos problem but solely a problem at the hotel Jagua.
Normally, at a 4-star hotel, I'd also expect a reasonable level of sound-proofing. However, acoustics at the hotel Jagua were more like sound-amplifying.
So you should forget any thought of going to bed before everything is quiet, and at the same time you should prepare yourself for an early rise, along with the cockcrow from the numerous roosters that are living close to the hotel
If the hotel can fix these 2 problems, it could be a very nice place to spend some days.
The facilities, the breakfast and the location are just fine; the staff is friendly, helpful and professional. They even tackled the water-situation with extreme good manners even though, at one point, they were verbally abused by a German hotel guest. Shame on him!