Hotel Ancón, Trinidad
About 20 meters of soft, white beach sand is all that separates the 24-hours All Inclusive Hotel Ancón from the sea, and if the blazing sun and swimming in the turquoise water makes you a little thirsty, you can always take refuge in the free beach-bar.

Since reviews on the Internet and in guidebooks provided me with a mixed signal of what to expect at the Ancón; I didn't set my hopes too high.
But I was in for a pleasant surprise.
From an architectural point of view, the Ancón probably won't win too many prizes, but then - I'm not an architect.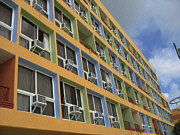 The only setback for this hotel would be that the rooms are a bit old and could do with a refurbish. But if you've come to a beach-hotel to be in your room, you're either very much in love, in which case you won't notice or you're in the wrong place, in which case you should just move on.
To me, the thing that makes this hotel so great and distinguishes it from the rest of the bunch is the food. It was so plentiful and tasty that I brunched, not just lunched.
For dinner, the hotel has 3 restaurants and a buffet-dinner, and you should definitely go for the buffet. There you'll have choices like:
3-4 different main courses
Today's special: An instant-made steak from beef, pork, fish or chicken
3-4 kinds of peeled and sliced fruit
4-5 kinds of salad with 2-3 different dressings
5-6 kinds of pasta, potatoe, bean etc.
A table with 4-5 types of bread
Fresh orange juice squeezed while you're there
Beer, soft drinks, juice, wine, coffee
2 types of absolutely delicious Italian, homemade ice-cream with dressing of nuts, chocolate etc
A table of 4-6 different kinds of cake
Now, the three restaurants have a peculiar reservation system: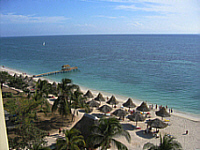 From 1 pm until about 3 pm, you can reserve for the next day - if it's not already overbooked, in which case you'll have to try again the following day. So on a Tuesday you can only book for Wednesday, not for Thursday or Friday.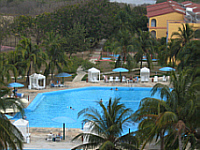 If you're a couple you'll typically be seated with two singles or another couple. If you are a company of three, you'll probably have a single traveller seated at your table. Now I love meeting new people, even though I prefer to decide who I'm teaming up with myself, but I absolutely hate to impose my company on others.
The restaurants will take people in at ex. 6 pm, 7:30 pm and 9 pm. However, when people leave, the restaurant doesn't fill the empty seats, so the last bunch will enter a partly vacant restaurant!
Back in the USSR that management would be part of the efficiency class:
Why should you do something in 1½ hour when you can spend 5 hours doing the same job?
Why carry three plates on each arm, when you can carry one plate with both?
But then, Cuba is not that far away from the Bahamas where the official Berlitz's tourist-guide writes about the three speeds in the country: Slow, stop and reverse!

You can see this kind of efficiency all around Cuba, and it's probably at the core of the country's 2½% rate of unemployment. At another hotel I saw a man painting a perfectly well-painted wall while a supervisor was doing nothing but watching the work in progress. All I missed was another supervisor to supervise the supervisor who was supervising the unnecessary paintjob :-)
Like most AI-hotels, the Ancón has a group to activate and entertain the guests - an activation-group. At Ancón they gave rather loud dance-lessons at the beach, performed fashion shows in the hall and provided evening entertainment on the outdoor scene.
Whether you like it or not, you will notice them, and personally I enjoyed the evening-entertainment but found the dance-lessons much too loud. But you have the chance to judge for yourself in the videos. I stayed at the top-floor and I haven't adjusted the volume.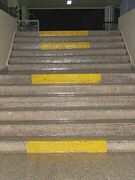 Somehow, Cuba seems to have a lot of haphazard changes of levels; so generally speaking, you'll do your best to watch your steps.
At the Ancón I tripled over the same step three times; so I was left with the choice of either cutting back on the Cuban Rum or taking a closer look at the staircase :-)
As you can see, there are four yellow marks on the steps. Two of them indicate the beginning and the end of the staircase, the third one tells you that there's a landing, but the fourth?
Well it's simple - that's to warn you that this step is about 5-10 centimetres higher than the others!
I went straight for a new "Cuba Libre" :-)