Santa Clara
If a city could belong to a person, Santa Clara would belong to Che Guevara.
This city marked the turning point of the rebellion, when Che Guevara and his 23 guerrillas stopped Batista's trainload of reinforcements in the one-hour fight only 2 nights before New Year's eve 1958.

Santa Clara is a town where your Spanish will be put to the test and where you'll see Cubans going about their daily tasks without paying much attention to the relatively few tourists.
As in other cities, the town centre around the Parque Leoncio Vidal is well on the way to a beautiful restoration.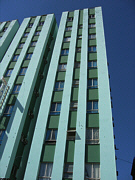 On the west-side of the park you can see the tall, light blue building of the hotel Santa Clara Libre. The original bullet holes from the battle in late December 1958 are preserved for the future and the hotel towers over the city as a monument over a fight, a victory and a legacy that the people in this town are still reminded of every day.
A short walk to the east along Independencia road will bring you to the Monumento a la Toma del Tren Blindado, where 5 of Batista's original train-carriages are placed alongside the bulldozer that was used to stop the train.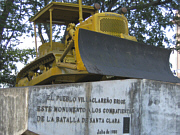 To be face to face with the original remedies from that short battle is somehow mind-boggling. The thought that this bulldozer is a part of a history that has had such an impact on a country and its people is in itself amazing.
If you move outside the town centre, unfortunately - on the flip side, you don't have to go very far to experience how some of Santa Clara's beauty is only skin-deep.
From the park I walked along the west-going Marta Abreu road, and half a kilometer down the road there was a small bridge crossing the Rio Bélico. To the north I could see the housing going all the way down to the overgrown stream.
It was evident that the riverbanks, even so close to the city centre, were used as a waste dumping ground.
While I was there, a man rolled up with his wheelbarrow. It was filled with leftover building materials, bricks, buckets of paint etc. Everything was dumped over the edge of the bridge and onto the banks below.
Apart from that, Santa Clara is definitely worth a visit. It has an easygoing feel, and you'll meet curious, relaxed and extremely friendly people.