Telephones
I think even the Cubans sigh when they pick up the telephone to dial out. It's not easy to get connected - far from.

You can buy two types of telephone cards:
A CUP-card and a CUC-card.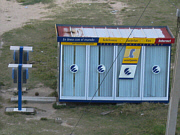 If you are placing a call inside Cuba you should go for the CUP-card. The call will cost you about the same amount in CUP as it would in CUC if you used the CUC-card.
If you're calling abroad you need a CUC-card, which for Denmark will last about 2 minutes for 10 CUC!
Cell phones
You can use your GSM-cell phone in Cuba.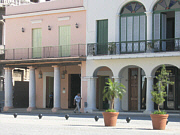 You can see a coverage map here.
However, to use your GSM-cell phone, you need to get in contact with the GSM-office. They will replace your own sim-card with a rental card.
While I was there, they had an offer on: 80 CUC for a month including 40 CUC worth of calls, but check for resent offers.
I was able to receive, not send, SMS messages without the Cuban sim-card.
In Havana you find the office well hidden on a north-east corner of the "Plaza Vieja".