The Tropicana, Havana
If "culture" sometimes seems to be a serious, grave and heavy word, you should try to spend an evening at the 65-year old cabaret Tropicana.
I assure you; the dancers are nowhere near that age and neither will your heart be, after an evening of dance, music and superb entertainment.

An explosion of colours, dresses and rhythms paused by seductive songs and…
Well I can try all I want, but to bring you a description of the mood, the sentiment and the art of the performance would all be work in vain.
So I have just one remark before I let the photos do the talking.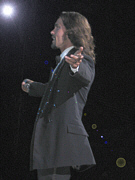 There was this singer.
He sang "Time to say Goodbye" (Sarah Brightman) and did it so perfectly, passionately and persuasively that it drilled a hole in my stomach, caused goose bumps on my arms and almost brought moisture to my eyes.
That was one of those rare moments!
For me at least, he caught the essence of the show rather like "Nature boy" did it for "Moulin Rouge".
Pictures from Tropicana