Hotel Canimao, Matanzas
Canimao is a well-run hotel and a great value. In fact, at only 22.5 CUC a night, this was the best deal I had for accommodation in Cuba.

The hotel is located outside Matanzas, but you can easily take the local bus (no. 116 and 117) from the main road only 200 meters from the hotel.
The price for the trip from the hotel to the town centre is a mere 0.2 CUP = 1/125 part of 1 CUC.
Behind the hotel you'll find a breathtaking view over the river valley below and on the front-side you have the Matanzas-version of the Tropicana cabaret.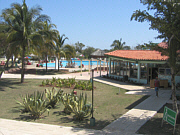 Considering the price, the clean, air-conditioned hotel-rooms are more than ok. They are equipped with a balcony, safe, bathroom, telephone, TV etc. The beds however, would gain from a replacement.
The staff is extraordinary friendly, service minded and many of them speak English very well.
The hotel has 2 restaurants nearby, and you should know that it's quite important to choose the right one.
The one that is located just beside the hotel can only be recommended because of the view over the valley.
They serve the hotel's breakfast; which by all accounts is sparse and bordering on uneatable.
You may even have to fight over the meals with the numerous sparrows that enter through the open windows of the restaurant, and with the countless small flies that especially take their likings to the fruit section.
So your best bet is the second restaurant down by the main road. It has a good reputation and a reasonable price setting.