Hotel Tropicoco, Santa Maria del Mar
A 100 meters to a beautiful beach with crystal clear water and swaying palm trees.
Top that off with newly refurbished rooms including TV-set, safe and comfortable beds and give it a prizing at 35 CUC a day for a single room, All Inclusive - That's hard to beat!

The structure of the Tropicoco is exactly the same as that of the hotel Ancón; so my comments to its architectural refinement will be similar to my comments on the Ancón, but I'm still no architect; so that's not really a concern.
It's hard, although hardly fair, not to compare the two hotels; so here we go: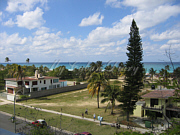 On the plus side:
The beach is better
23 CUC less a day
A working Internet connection
A shuttle-service to Havana
Refurbished rooms
Better beds
On the minus side:
Good raw materials for dinner, but the preparation and the taste is a bit off
The same dining hall, but the atmosphere is nowhere near as pleasant
The drinks are a tad more watered down
The All Inclusiveness stop's at 10 pm.
The beach-bar is quite small, hard to find and not exactly at the beach
The activity-group is quite invisible compared to the Ancon's
The Tropicoco clearly aspires to be a great hotel. It has a beautiful setting and an extremely attentive staff. However, the level of English and the less relaxed attitude still leave some room for improvement.