Varadero
The Varadero area is one of the places where the Cuban government invests heavily in the tourist industry.
You'll find beautiful beaches, stunning sunsets and a relatively high comfort-level here. But it all comes at a price.

With several cross-points before Varadero, the area is somewhat secluded from the mainland.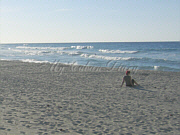 Officially the control posts are there to collect a CUC-fee, but in real life they work as borderline to an area where the average Cubans are not allowed.
To me, Varadero has little to do with the real Cuba. It just happens to be on Cuban soil. Most of the Cubans I talked to actually referred to Varadero as "Plastic Cuba".
But if your heart´s content is limited to a good beach, a luxury hotel and a RP English, then you'll probably enjoy spending a winter's day at Varadero.